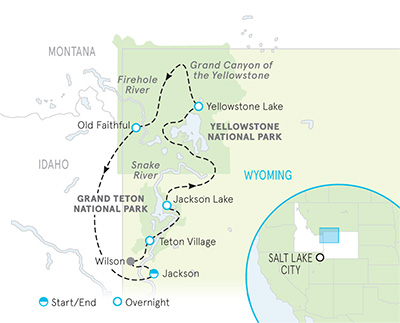 MULTI-ADVENTURE
National Park Adventure from Bozeman to Jackson
Southwest Montana is Big Sky Country. Soak up its grandeur on horseback and while rafting the Gallatin River. Yellowstone is one of a kind. Geysers really do erupt hourly. Sulfur-scented hot springs glimmer like jewels. Bison and elk are as common as tourists. The Tetons. Majestic peaks above, meadows and glacial lakes below. From Bozeman to Jackson, this is the American West at its finest.
Start Bozeman / End Jackson
Start/End locations may vary. Do not book flights until your trip details are confirmed.
HIGHLIGHTS
Splash through rapids along the Gallatin River's Mad Mile, the longest stretch of white water in the region
Hike to the Grand Canyon of the Yellowstone, a geologic wonderland and home of the park's biggest waterfall
Bike beneath the Teton Range's sawtooth mountains amid shimmering lakes and dense forests—watch for eagles and bison
Explore quintessential Montana ranchland and take in sweeping valley views while on a trail ride alongside local wranglers
6 Days Casual Hotels
DAYS 1-2
Start your adventure with a splash! Paddle thrilling Class II–IV rapids down the Gallatin River with expert guides | Feel like you're in a movie? This region is where scenes from Robert Redford's A River Runs Through It were shot | Follow the rapids as they descend into canyons and conquer Mad Mile, the longest stretch of white water in the region | Saddle up for a horseback ride with local wranglers into the beautiful Custer Gallatin National Forest | See the pristine beauty of surrounding ranchland, Hebgen Lake and the Continental Divide | Walk through wildflower-filled meadows and past towering pines as you get a sneak peek at Yellowstone National Park, looming in the distance | Spend the afternoon enjoying a variety of ranch activities—how's your horseshoe throwing?
Bar N Ranch
West Yellowstone
|Casual Hotel
Minutes from Yellowstone's west entrance, this rustic guest ranch is set on 200 acres with stunning mountain vistas. (pool)
DAY 3
Hike to Grand Canyon of the Yellowstone, the park's most dramatic feature, where waterfalls cascade over pastel-colored cliffs | Watch for bison and eagles while passing through alpine meadows and stands of lodgepole pines as you make your way to the canyon rim  for breathtaking vistas deep into the gorge.
Canyon Lodge
Yellowstone National Park
|Casual Hotel
Yellowstone's newest lodge, designed with an emphasis on sustainability, features reclaimed pine and stone accents.
DAYS 4-6
Be wowed by bubbling mud pots, spouting geysers and steaming vents in Yellowstone | Hike through the heart of the park in Upper Geyser Basin, taking in the sights, sounds—and smells!—of this strange geologic wonderland | Check out the fumaroles of Biscuit Basin and legendary Old Faithful Geyser up close | Explore Grand Teton National Park, a paradise of bluebell-strewn meadows, shimmering lakes, thick forests and sawtooth mountains | Perhaps you'll opt for a horseback ride, scenic boat cruise or a fishing excursion | Bike beneath the spine of the Teton Range as we follow the valley floor | Traffic up ahead—watch for roaming bison!
Jackson Lake Lodge
Jackson Lake
|Casual Hotel
Situated in the heart of Grand Teton National Park, with 60-foot picture windows for savoring views of the Teton peaks and the roaming moose, elk and bison. (pool)