December 8, 2018 • Todd Smith
The Great Barrier Reef Water Adventure for Kids & Families.  The Great Barrier Reef is great for kids—if you do it the right way.
Australia is a wonderful travel destination for families, and a visit to the Great Barrier Reef is a highlight for kids, parents and grandparents alike. Like any family travel to a remote wilderness location, a trip to the Great Barrier Reef requires careful consideration and planning. With this tour company Explorations, we are frequently asked, "Is the Great Barrier Reef good for kids?" We answer with an emphatic yes—if you do it the right way. With this in mind, we have created this family guide to Australia's Great Barrier Reef with firsthand tips and advice to help parents plan the perfect trip.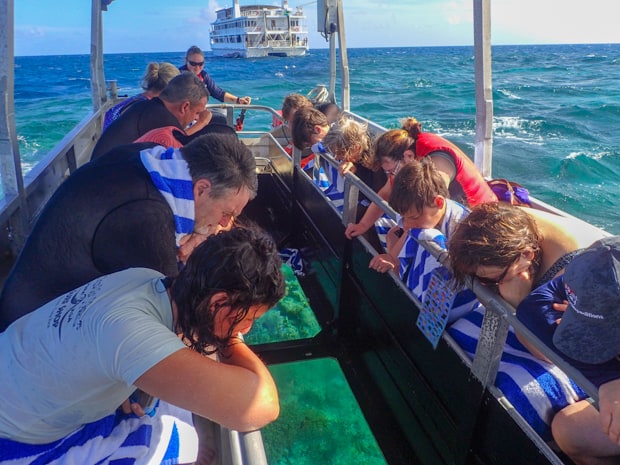 Why Travel with Kids to the Great Barrier Reef?
Australia's Great Barrier Reef is one of the seven natural wonders of the world with huge appeal to adventurous kids and nature-loving families. With loads of bright colorful cartoon fish, sea turtles, white sand beaches and warm tropical water the reef is a watery wonderland of nature. Introducing kids to nature at a young age helps them learn about science, biodiversity and conservation in a fun and exciting environment. Many parents have the reef on their bucket list so why not explore as a family?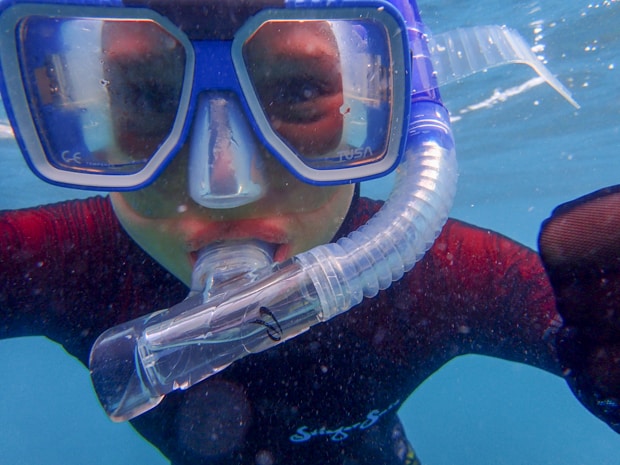 Why Overnight Cruising Is the Best Choice for Families
The vast majority of families who snorkel the Great Barrier Reef will do so on a day cruise. Day tours can range from 3 hours to all day. Shorter cruises visit the inner reef closer to shore while the outer reef can take 1-2 hours to reach so considerable time is spent on the boat. There are a huge variety of day cruises, from simple yachts to elegant sailing vessels and huge catamarans that rendezvous with massive pontoon platforms anchored near the reef. The latter tend to be most popular with families because they offer plentiful distractions such as waterslides, lounge areas, touch pools, enclosed netted swimming areas and semi-submersible tours. The pontoons can accommodate up to 450 people resulting in a theme-park-type atmosphere. These trips can be fun and appeal to casual tourists, but they can also be crowded mass-tourism enterprises that don't provide any substantial exploration or intimate learning for families truly seeking to experience the reef.
Overnight cruises immerse parents and kids in the environment, going beyond the reach of day trips.
An overnight family cruise aboard a small ship, sometimes called a liveaboard cruise, is fundamentally different from a snorkel day tour. These cruises immerse parents and kids in the environment, going beyond the reach of day trips to explore up close in safety and comfort. Cruises range from 4 to 8 days, allowing families ample time to explore a variety of reef types and exclusive locations far from crowded beaches and day tours. Expect two to three opportunities to snorkel each day. Explore in the company of expert marine biologist guides who are there to lend a hand but also to inform and educate travelers young and old about the wonders you will encounter below the surface. Stop and relax on postcard-perfect white sand beaches where kids build castles while parents toast their adventure with a glass of champagne at sunset over the Coral Sea.
What Is the Best Age for Kids on the Great Barrier Reef? How Old Should Kids Be?
To make the most of your family vacation, kids should be old enough to confidently swim and snorkel. We typically recommend the Great Barrier Reef to families with kids age 6 or older. There are no babysitting services on reef vacations, so if your child is not participating in the activities then plan on staying with them.
We typically recommend the Great Barrier Reef to families with kids age 6 or older, but there are lots of options for all ages and ability levels.
Family cruises offer lots of options for all ability levels—from beachcombing to snorkeling and diving—ensuring everyone can participate, making them ideal for multigenerational families. A sporty family who booked their trip with AdventureSmith Explorations later commented to us that a highlight of their trip was when mom and younger kids were snorkeling on the surface while dad and older son were scuba diving below and the grandparents were exploring nearby in the glass-bottom boat. Three generations exploring the reef together, but each in their own way. It doesn't get any better than this.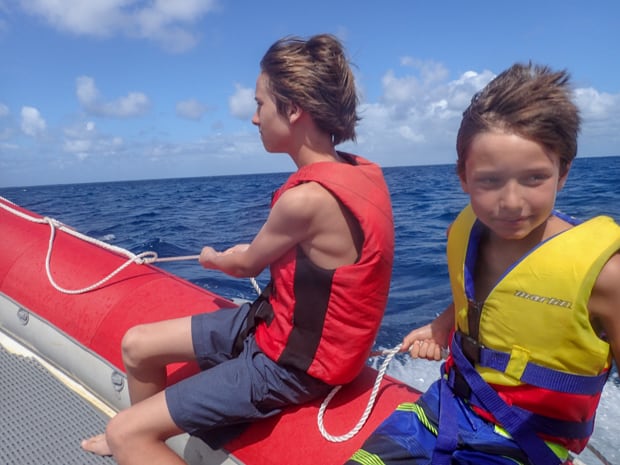 How to Prepare Kids for a Family Snorkel Vacation
Don't wait until you arrive to teach your kids to snorkel or practice yourself. Breathing through a tube with your face in the water is not natural to kids and takes some practice. Preparing before you arrive will ensure you make the most of your time on the reef. Younger kids can start in the bathtub while older kids can learn in a shallow pool. Start with the mask, taking the time to ensure it fits properly. Let kids put their face in the water with the mask and enjoy looking around while holding their breath.
Don't wait until you arrive to teach your kids to snorkel.
Once they are comfortable with a mask, introduce the snorkel. Have them practice breathing though their mouth and putting the snorkel under water. Kids who panic while snorkeling have usually not mastered breathing though their mouth so make sure they are proficient in shallow water before proceeding to the deep end. Consider using a floatation device such as a life vest or noodle. This allows kids and adults to float effortlessly while looking down into the depths. Next proceed to a beach snorkel pointing out fish and critters. Soon your child will be proficient enough to snorkel on their own from a beach or a boat.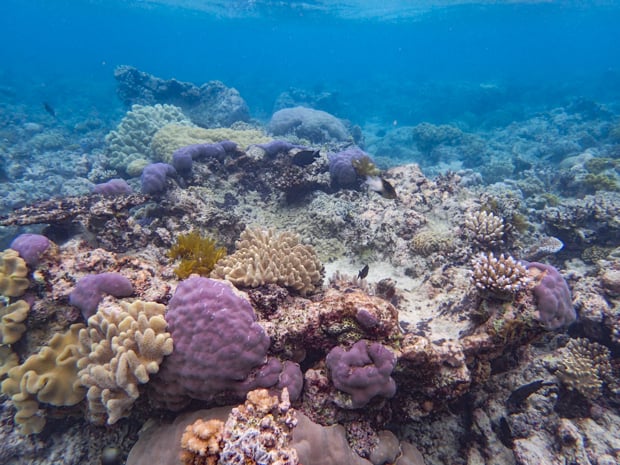 Outfitting for a Family Snorkel Cruise
You don't need much to outfit your family if you choose an overnight family cruise option. Snorkel and diving gear are often provided and are typically sized and issued on the first day for you to keep throughout the voyage. We suggest that if you own a mask and snorkel, that you bring them. While gear is provided, your personal gear might fit better. Fins are large and bulky so don't bother trying to bring them. If you or your kids are not confident swimmers, ask the crew for a noodle or flotation device.
You'll want to capture photos of those kids beneath the waves, so a good underwater or waterproof camera is essential. Some folks have found waterproof cases for their phone work great, or there are several good point-and-shoot camera options. Our crew uses the Olympus Tough camera, which is on the higher end, but well worth it for snorkeling, diving and rugged adventure travel (photos in this post were taken with this camera). Be sure to bring more memory than you think you need or a backup drive to store images.
Reef-friendly sunscreen is always a must, so check to be sure you have it packed or your vessel provides it.
Waterproof sandals or shoes are not necessary as you will be landing on a soft sandy beach or snorkeling from the ship. Sandals or flip flops are nice for walking around the ship. Dress is casual on board, even at meals, although the crew appreciates no swimwear at meals. Reef-friendly sunscreen is always a must, so check to be sure you have it packed or your vessel provides it.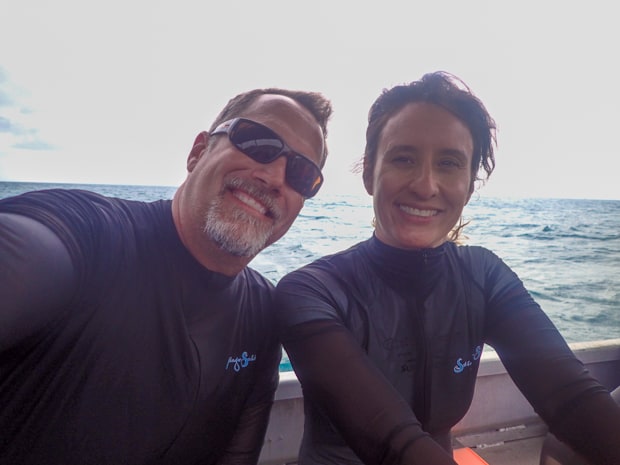 Insights from My Own Great Barrier Reef Family Cruise
I took a Great Barrier Reef Cruise aboard the 44-guest Coral Expeditions II with my family: my wife and our 10- and 14-year-old sons. You can read my Great Barrier Reef Cruise trip review, but I'll share some added insight with the family experience in mind:
Incredible Access, Ease & Education to Explore the Coral Reef with Kids
Our specially outfitted small expedition ship backed up and moored only yards from the reef. The crew lowered a hydraulic swim step into the water, making it incredibly easy to swim and snorkel right from the ship. The crew also set out resting stations along the reef allowing us to venture farther snorkeling than we normally would.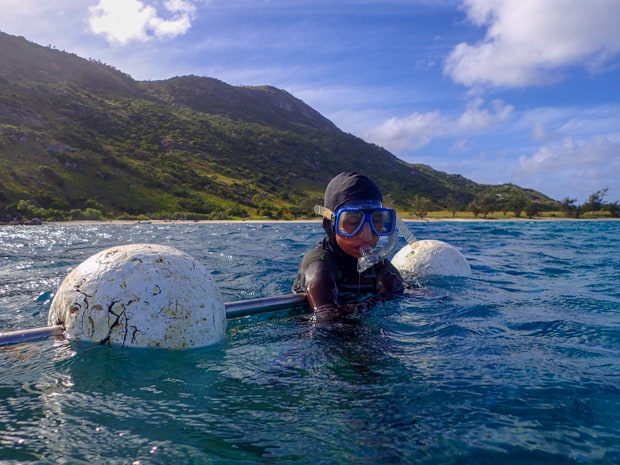 Resting stations along the reef allowing us to venture farther snorkeling.
Guides led us on snorkel safaris, pointing out types of coral, fish species and all manner of underwater curiosities, and we all loved riding together in the glass-bottom boat. This allowed our entire family to learn from our guide, who would identify the multitude of coral and fish we were seeing and explain their relationships to their underwater environment.
Trying Something New – Scuba Diving with the Family
Our cruise had optional (extra cost) scuba diving options for certified divers, and uncertified travelers were able to test the waters with a resort dive. Resort diving, also known as introductory diving or trial diving, allows people without any experience or certification to learn and experience scuba diving under the guidance of a trained instructor. Our instructor, Colin, prepared our family with a training dive in shallow water on a postcard-perfect beach. All of us were able to practice with the equipment in this safe environment to determine if we wanted to proceed with an actual dive the following day. My wife and I are certified divers, so we were eager to participate each day. My 14-year-old son took to it like a fish to water (pun intended) and also enjoyed diving every day of the cruise. Resort diving in Australia is limited to divers age 12 or older so while my 10-year-old son was able to participate in the training, he was not allowed on the actual dives. Of course, he now wants to become a certified diver.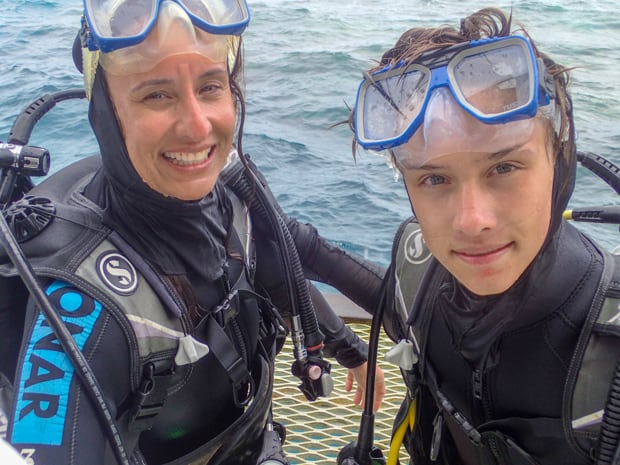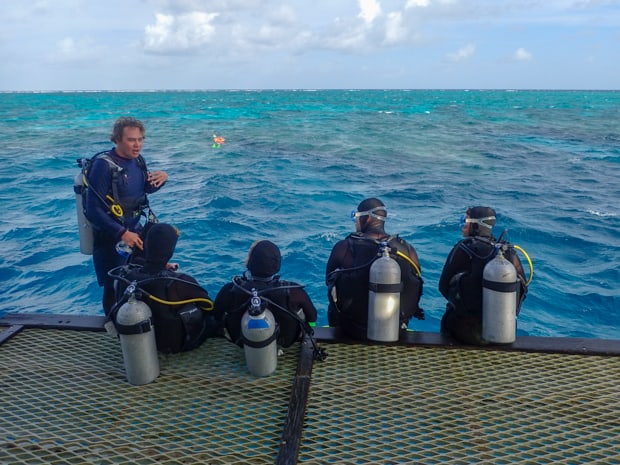 A Family-Friendly Ship
On board, we had comfortable accommodations and incredible service with kid-friendly meal options. We were a family of four, with our sons able to stay together in an adjacent cabin, but families of three can book a Stateroom for triple occupancy (the cabin containing a Pullman bunk for the child). As parents, we loved that the cabins were accessed from interior hallways, which felt safer for our boys to roam around. The indoor lounge had a library, games and TV monitors showing the ship's route or educational videos.
My sons loved the open-bridge policy as they were able to go visit the captain to learn about navigation and watch him pilot the ship. They even got to take a short turn behind the wheel! The ship's Great Barrier Reef Cruise itinerary is a great value for families, with ages 0-3 traveling free and ages 4-14 receiving half off (at the time of our sailing).
How to Plan Your Australia Family Cruise
As small ship cruise experts, my team at AdventureSmith Explorations highly recommends Australia's Great Barrier Reef to families. Give us a call to find out if a family reef cruise is right for you and for more Great Barrier Reef information for kids. Our Adventure Specialists will work closely with you, taking the time to answer questions and getting to know you and your family, making sure you are well prepared for your trip to Australia. Once your trip is confirmed, we send an extensive preparation packet with packing lists, logistical information, reading lists and tips. Your family will work with the same dedicated Adventure Specialist throughout the process, ensuring personalized service and continuity. If you are the type of family that truly wants to experience everything the Great Barrier Reef has to offer, then an overnight small ship cruise is the best way to go.