Discover Hawaii in a new way via this 8-day small yacht cruise in America's very own paradise, the Hawaiian Islands. This unique 4-island Hawaiian Seascapes itinerary enables authentic experiences of Hawaii's rich traditions and spectacular natural wonders.
From the 36-guest Safari Explorer, watch for humpback whales off Maui and the Big Island of Hawaii. Explore the naturally pristine areas that can only be accessed by sea. Experience traditional Hawaiian history and culture at the Lana'i Culture and Heritage Center, including a musical jam session, while exploring the islands with an intimate group of like-minded travelers.
This active Hawaii cruise itinerary includes time for snorkeling among coral gardens and a sea turtle habitat, stand-up paddleboarding, kayaking and skiff tours. Land opportunities include hiking in lush forest, up volcanos and touring the Molokai Museum. Each evening, slip into a different sheltered harbor or inlet for exploration and enjoy a splendid dinner on board. As the sun sets, a fragrant breeze emerges and the coconut palms sway on the nearby shore…
With tens of millions visiting the Hawaiian Islands each year, being 1 of 36 on this small ship cruise offers a unique, exclusive experience. Dare to be different and explore Hawaii's untouched, remote lands by small ship cruise.
HAWAIIAN SEASCAPES ITINERARY
The 8-day Hawaii Seascapes Cruise begins in Molokai, explores the islands of Lana'i and Maui and Hawaii before ending at Kawaihae Harbor, Hawaii (Big Island).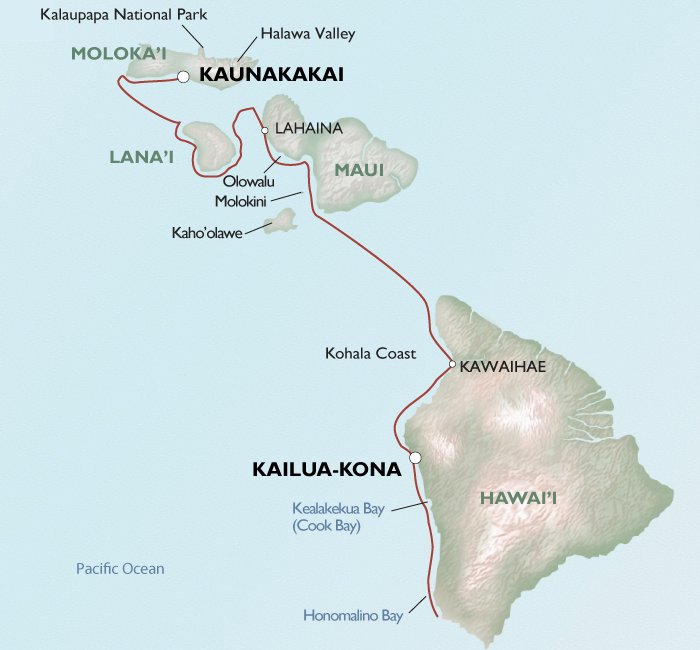 DAY 1
Embark Molokai
Welcome to Hawaii! Be transferred to a hospitality suite on Molokai for a warm aloha. Later, be greeted by the captain and crew with smiles and champagne as you board the awaiting Safari Explorer. This evening, settle in and enjoy dinner aboard the yacht, before a presentation about the week ahead.

DAY 2
Molokai
A warm Aloha spirit gives the sense of Hawaii long ago. No stop lights, no high-rises, just a welcome slower pace. "Talk story" with locals and experience their land and traditions as few visitors ever do. Hear legends and lore, then take in cultural lessons in taro patches and poi making, or hike to a towering waterfall in Halawa's cathedral valley, one of the island's most historic places. At the Molokai Museum, discover the history of this ancient homeland while enjoying an evening pa'ina (feast), complete with a home-style Hawaiian jam session.

DAY 3
Lana'i
Gear up for a day of play on the "Private Island." Thousand-foot sea cliffs line the shore and ancient volcanic plugs sit both above and below the water surface as host to a wide diversity of marine life. Snorkel, stand-up paddleboard, kayak and explore by skiff. Take a stroll to Sweetheart Rock, a sea stack jutting 80 feet above the crashing surf, and discover the legend of the princess Puu Pehe. Learn about the island's plantation days with a visit to the quaint Lana'i Culture and Heritage Center.

DAY 4
Maui
Snorkel among coral gardens teeming with underwater life and a known sea turtle habitat. The marine sanctuary located between Lanaʻi, Molokai and Maui provides front-row seats as you cruise through these productive breeding grounds searching for dolphins, whales and other marine life. Look beneath the surface from your kayak or stand-up paddleboard. Then stretch your legs in Lahaina for an afternoon amble through this historic town. Or take a leisurely beach stroll.

DAY 5
Captain's Choice Exploration
Leave it to the captain and crew to seek out and unveil the best opportunities the islands hold in store today. Dramatic volcanic backdrops, marine life sightings and chances for snorkeling, kayaking and stand-up paddleboarding are all possible!

DAY 6
Kona Coast
Fringed by coconut palms, Pu'uhonua O Honaunau National Historical Park offers a morning of snorkeling filled with corals, sponges and tropical fishes. From the tiniest fish to the widest stretch of coral, it's all spectacular. Or explore the rugged coastline on a skiff ride. Follow the lure of the ukulele and round out your day at Koloko-Honokohau National Historic Park. Visit with the ranger (and become a Hawaii Junior Ranger if you choose), hike the trail to petroglyphs or check out the Kaloko fish pond and remnants of the Aiopio fish trap. Bird watch or relax on the white coral sand beach—you may spot a green sea turtle.

DAY 7
Puu Waawaa State Wildlife Sanctuary
You're off to Puu Waawaa State Wildlife Sanctuary where you and a local naturalist climb the trails above the Kona coast. How will you adventure? Head 6,000 feet up Hualalai Volcano on a long hike up the cool and misty slopes, complete with natural history interpretation. Hike through dryland native forest and past lava tubes, and peer into a pit crater from its edge (if you're up for it, you can even go inside a lava tube). A shorter hike option boasts views of craters, fissures and lava tubes. Recharge and fuel up with lunch at a coffee plantation on the mountain. For your final afternoon, relax onboard or go for one last dip.

DAY 8
Disembark Hawaii
As the Safari Explorer docks at Kawaihae Harbor, be transferred to the Kona Airport or to your extended hotel stay or land tour.

DETAILS
Inclusions, Terms & Notes
Included
Accommodations aboard vessel; onboard meals; premium wine, beer and liquor (excludes super-premium wines); non-alcoholic beverages; transfers and baggage handling between airport/vessel on embarkation/disembarkation day; entry fees to national parks/preserves; all from-the-vessel activities and equipment; exclusive activities and shore visits; wellness amenities; presentations by onboard expedition/heritage guides and guest experts.
Exclusions
Airfare to and from your home city; discretionary gratuities to vessel's crew; travel insurance and insurance of any kind; optional excursions and land tours; excess baggage charges; items of a personal nature; taxes and port fees of $375 per person for 2020 & 2021.
Payment & Cancellation
In order to confirm this trip, a deposit of $750 is required per person at time of booking. The balance of the trip price is due 90 days before the departure date. Special holiday payment and cancellation terms may apply. Guests who must cancel their trip for any reason must do so in writing. Standard cancellations are subject to the following per-person penalties, based on number of days prior to departure:
91 days or more – 50% of deposit
90 to 61 days – 100% of deposit
60 to 46 days – 50% of total trip cost
45 to 31 days – 75% of total trip cost
30 to 0 days – 100% of total trip cost
Terms & Conditions
This trip is subject to Terms and Conditions. Please ask to read this information carefully and call us if you have any questions. A Traveler Information Form, which includes a release of liability, must be completed and signed by all travelers. You will be sent a unique link to complete this form along with a packing list and extensive pre-departure and travel insurance information upon booking confirmation.
Arrival & Departure
The Hawaiian Seascapes cruise begins in Molokai, Hawaii (MKK), and ends on the Big Island, Hawaii (KOA). Plan flights to arrive to Molokai by 2:00pm on day 1 of the itinerary. Plan flights to depart the Big Island no earlier than 12:00pm on day 8.
Activities
Whether you are looking for moderate activity or vigorous, extended and challenging outdoor pursuits, the crew can tailor most any expedition to suit your skill level. Adventure activities may include whale watching, kayaking and stand-up paddleboarding, snorkeling inflatable boat/skiff excursions, morning yoga and stretching, land treks and wildlife observation. Limited quantities of hiking poles and binoculars are available on board. To ensure availability and fit, we encourage you to bring your own gear.
Room Configuration
In addition to any listed Single cabin rates, select double-occupancy cabins may be available for single occupancy at 150-175% of the per-person listed rate; special triple-occupancy rates may also be available in select cabins. Call AdventureSmith for more details, as availability and rates vary by ship and cabin category.
Families & Children
Kids 8 years and older are welcomed aboard all departure dates; exceptions for children 7 years and under may be allowed with special pre-approval. Save $500 per child, ages 8 to 13, with the exception of holiday departures.
Travel Insurance
Protect your travel investment with insurance. Our partners at Travelex Insurance offer a variety of plans and policies to fit every trip and budget. You must purchase your travel insurance policy within 15 or 21 days of booking (depending on plan) for it to cover pre-existing medical conditions; refer to plan details. Learn more about travel insurance or get a free quote.
Itinerary Notes
Use the itinerary as a guide only. Itineraries may be altered due to weather, wildlife, national park regulation or at the captain's discretion. The ability to be flexible makes this type of small ship cruising unique.
LEARN ABOUT THE SMALL SHIP ON YOUR ITINERARY