In Hawaiʻi, the visitor industry sees tourism a little differently. Because the Hawaiian Islands existed for many generations before their first visitors, we feel a kuleana (responsibility) to help teach, share, and perpetuate what's known today as our host culture.
To that end – as well as to encourage folks to come and explore our island – we highlight and recognize the work of many community organizations in creating unique events and programs across the state. Many of these embrace traditional Hawaiian culture; many share a thriving multicultural lifestyle that continues to evolve in the 21st Century. These programs celebrate coffee, chocolate, and other unique agriculture, our coral reefs, and community history, as well as hula, arts, stories, and much more.
Travelers who support these festivals, concerts, lectures, and events are more than "visitors," they are patrons of the arts and friends of our island communities and cultures.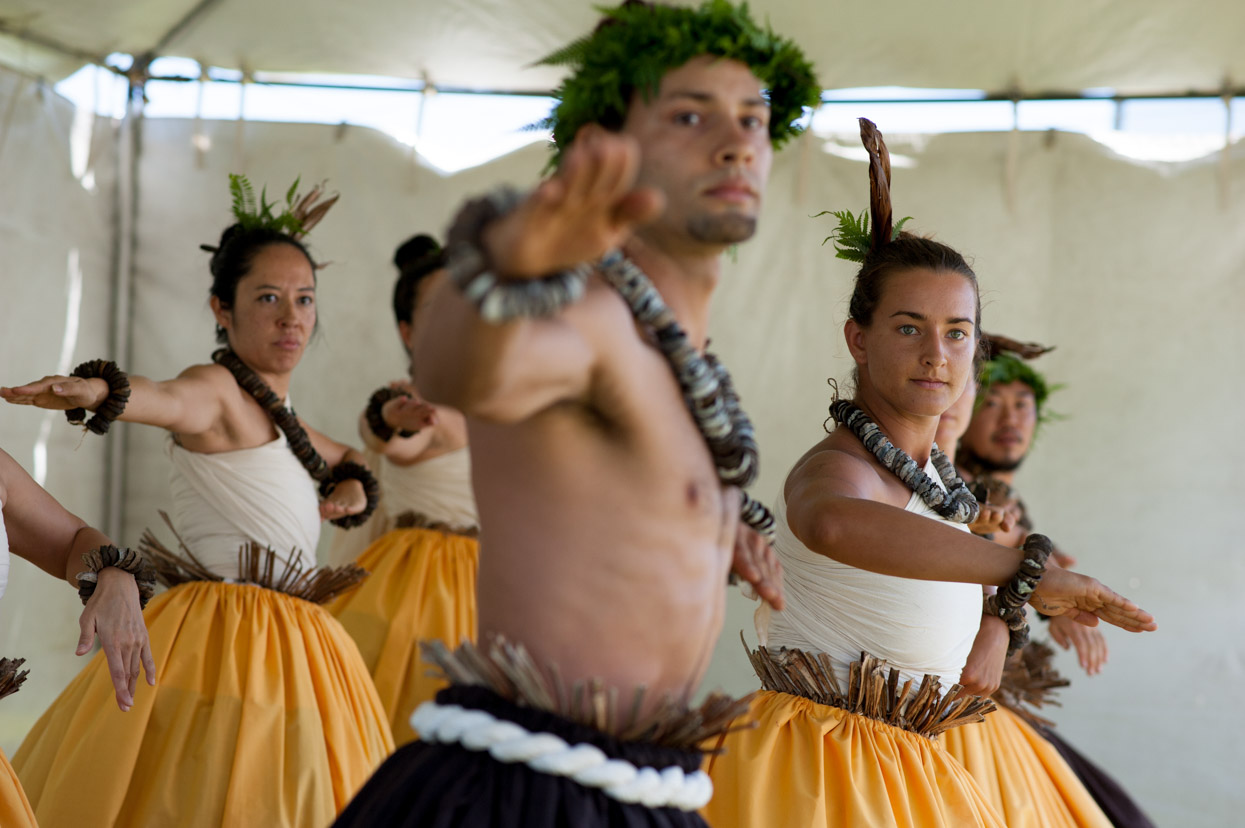 An excellent place to start is at the source, Hawaiʻi Volcanoes National Park. Within the park Volcano Art Center (VAC) presents a monthly "Hula Arts at Kīlauea" series all year round.
Dancers perform on a pā hula (stone platform), near the home of the revered fire goddess Pele. The kahiko (ancient) form of hula is shared here with reverence and respect, using symbolic, traditional costume, rhythm instruments, lei, and chants to tell stories of places, people, and events long past. www.volcanoartcenter.org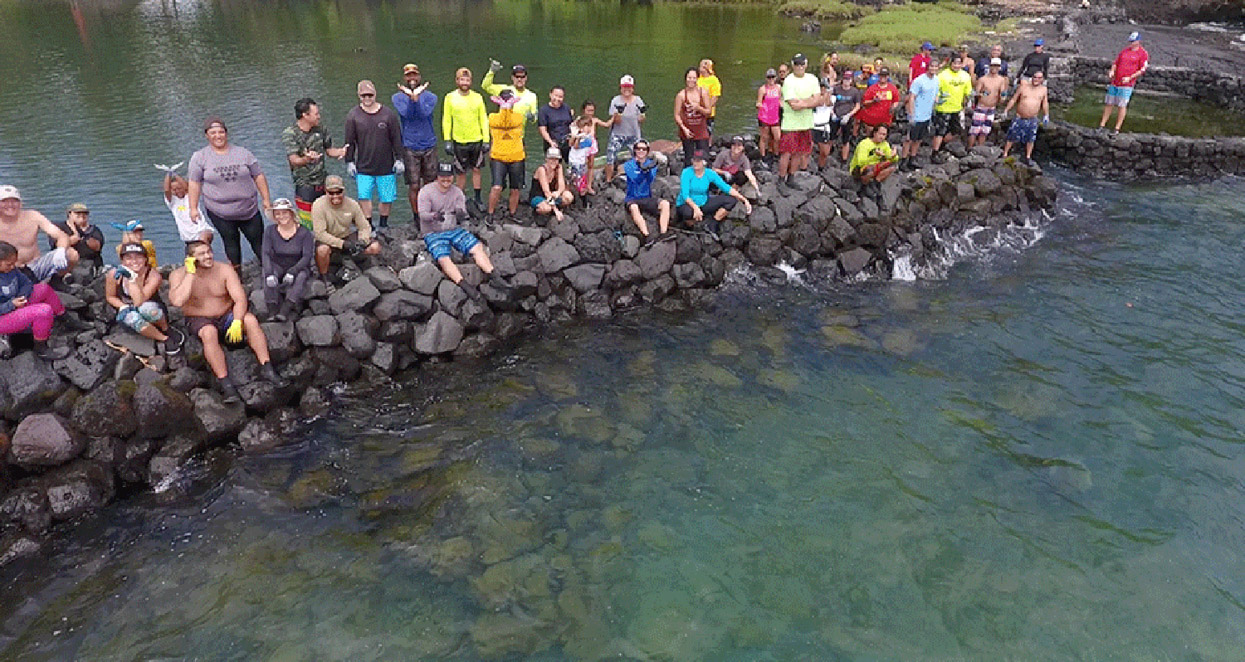 Similarly, the Edith K. Kanakaʻole Foundation perseveres in hula and Hawaiian cultural education. The Foundation is named after the late Kumu Hula Edith K. Kanakaʻole, the matriarch of the eight-generation hula school Hālau o Kekuhi. In addition to hula programs, the Foundation also operates a nature education project called Papakū Makawalu. Twice yearly, in January and February, Papakū Makawalu presents an extensive workshop on what might be termed indigenous science, or the Hawaiian way of thinking and living, as applied to the heavens, the earth, and living things.
From their website: "Papakū Makawalu connotes the dynamic Hawaiian world view of the physical, intellectual and spiritual foundations from which life cycles emerge. The categorizing and organizing of the natural world reside in three houses of knowledge, and the combination of the three houses of knowledge is Papakū Makawalu." For more information and to sign up: www.edithkanakaolefoundation.org
In May, the Hawaiʻi Kuauli Pacific and Asia Cultural Festival takes place in Historic Kailua Village at the Courtyard King Kamehameha's Kona Beach Hotel. The three-day 2020 event will include an exciting keiki hula competition for dancers aged 10-18, performing in both kahiko and ʻauana (modern) dance styles. Also scheduled, the Wearable Arts Fashion Show, spotlighting some of the island's hottest designers, an extensive multicultural marketplace, and "Taste of Pacific and Asia" culinary dine-around, featuring locally-sourced foods from Hawaiʻi's farms, ranches, and fisherfolk. www.hikuauli.com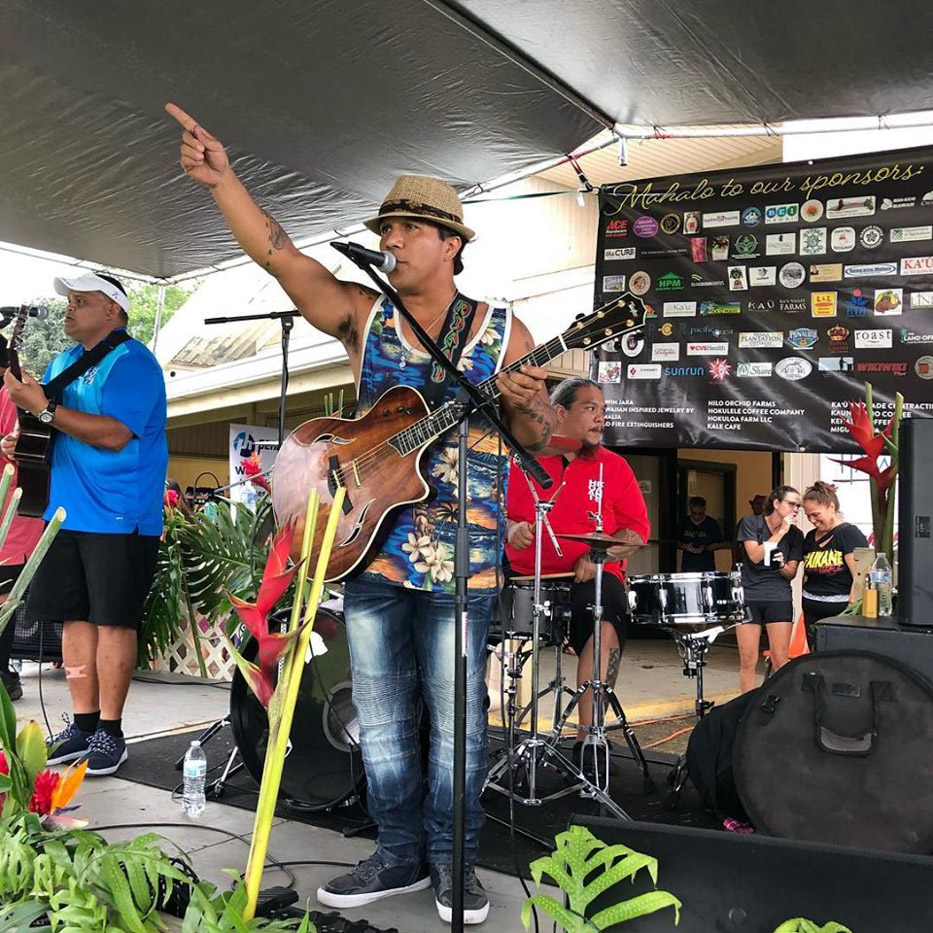 Many events proudly celebrate local agriculture across the island and throughout the year. Also, in May, the Kaʻū Coffee Festival, presented by the Big Island Resource Conservation and Development Council, is a full week of coffee-flavored fun. In addition to coffee farm tours and tastings, recipe contests, and "Coffee College," there's a Miss Kaʻū Coffee pageant, stargazing adventure, and a family-style fundraising potluck feast at the historic Pahala Plantation House.
The coffee buzz every year, however, is mostly focused on the Hoʻolauleʻa event. Live music, hula, craft vendors, food booths, and more including the "Kaʻū Coffee Experience" are just some of this all-day, non-stop celebration. The Coffee Experience includes pro baristas demonstrating various brew methods, like the Hario Pour-over, Clever, French Press, Chemex, and Toddy Cold-brew. Attendees are invited to learn their secrets and impress their coffee-loving friends. www.kaucoffeefestival.com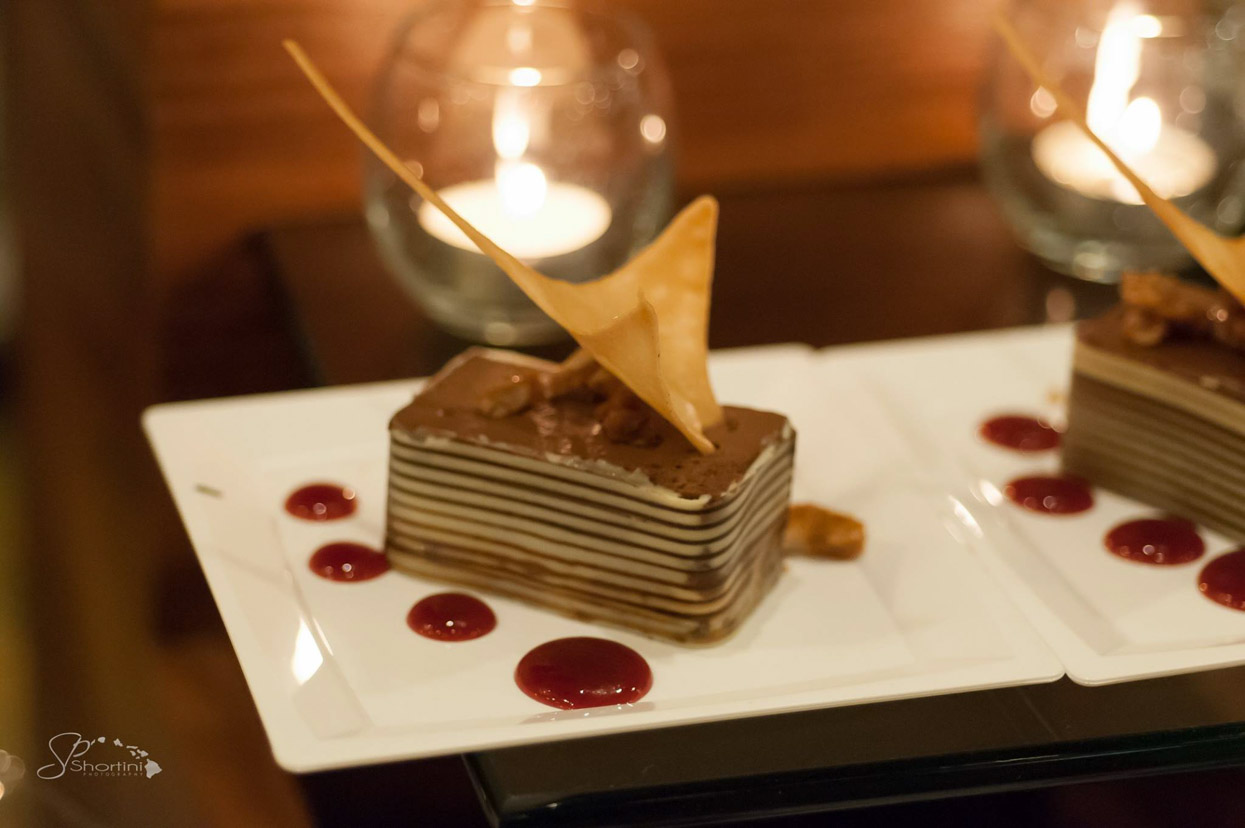 The Big Island Chocolate Festival is another don't-miss event that happens in May, at the Westin Hāpuna Beach Resort, presented by the Kona Cacao Association. Cacao, the pods of which chocolate is derived, grows in both East and West Hawaiʻi Island. It first came to the islands in the 1800s. Some say King David Kalākaua grew cacao trees in his garden.
Since then, Hawaiʻi has become the only state to grow cacao commercially. Hawaiʻi's farmers, chefs, and chocolatiers collectively strive to develop and enhance the "branch to bar" chocolate industry here. The concept becomes a delicious reality at the Chocolate Festival's gala fundraising dinner, where professional chefs vie for People's Choice honors with their sweet and savory creations. Diners enjoy drinks and music, chocolate sculptures, and dancing to work up an appetite or work off a few calories. www.bigislandchocolatefestival.com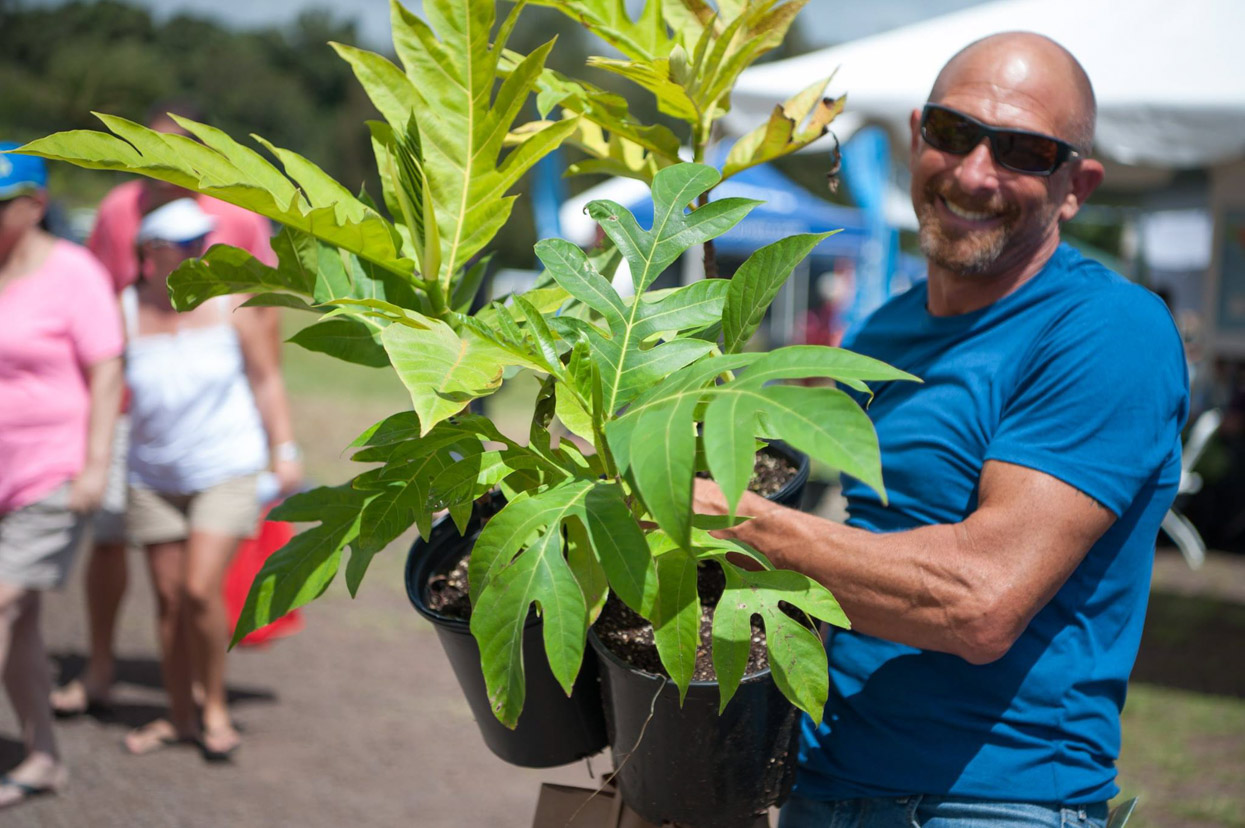 Hāmākua Harvest Farm Festival, just outside of Honokaʻa town on the Hāmākua Coast, is part-party, part-farmers market, and all about the diverse and delicious ag community of Hawaiʻi Island. This annual event takes place on the third Sunday in May (rain or shine). The Festival offers attendees of all ages a chance to get their hands dirty with farm demos, tap their toes to live music, take home some fresh foods for dinner, and experience a taste of local culture that's alive and well in our island home. www.hamakuaharvest.org
Also in Honokaʻa, the Hawaiian Cultural Center of Hāmākua welcomes residents and visitors to learn about and deepen their connection with the Hawaiian culture. Their classes in hula, language, history, agriculture, philosophy and more, are offered on a weekly and monthly basis (reasonable prices) at the Center's Māmane Street location. They also present free introductory programs at Kings' Shops in Waikoloa Beach Resort on Thursday (storytelling), Friday (hula performance), and Saturday (lei making and hula lesson). www.hccoh.org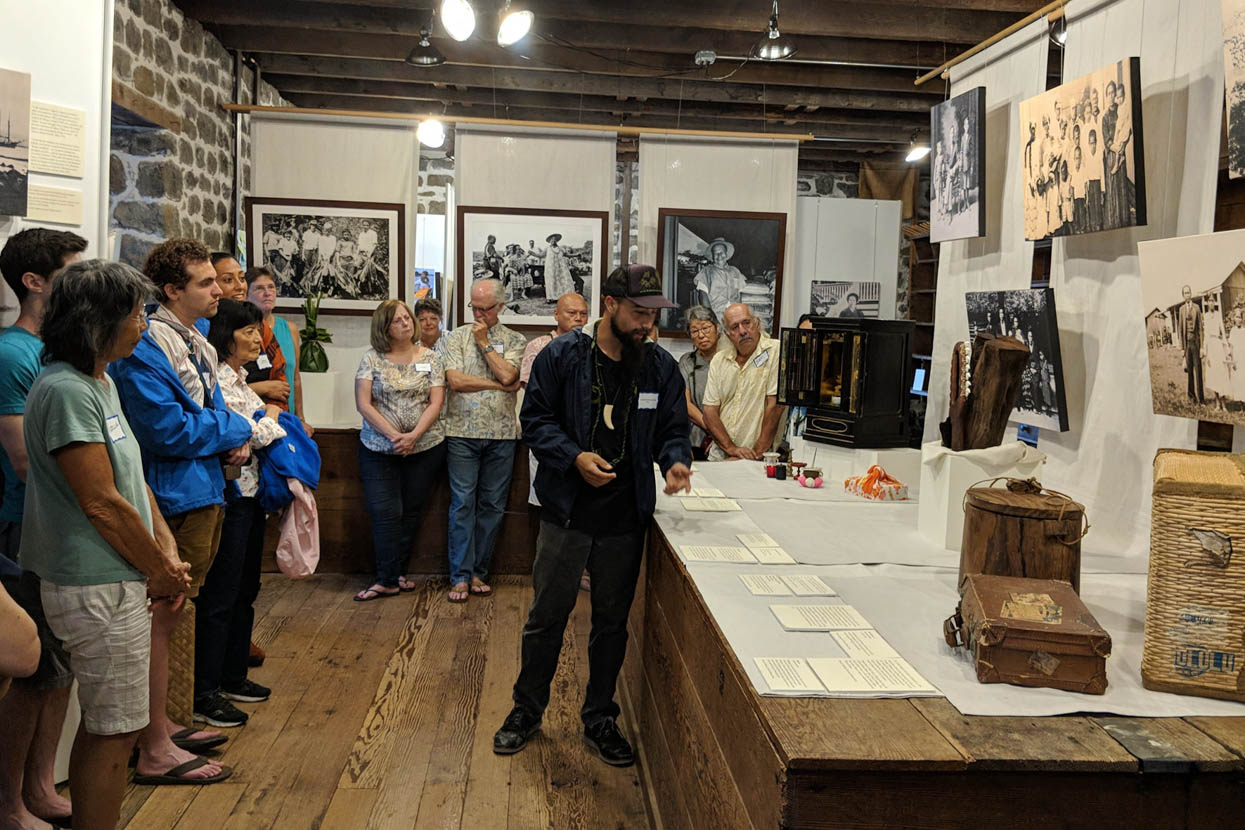 In West Hawaiʻi, the Kona Historical Society has dedicated itself to sharing knowledge and educating visitors, as well as residents, via their "Hanohano o Kona, Wahi Pana Lecture Series." The free presentations take place (generally) on the last Wednesday of every month at West Hawaiʻi Civic Center, 5:30-7:30 p.m. The 2020 schedule has yet to be posted, but, past topics have included the Great Māhele land division, Hawaiian bird catchers and native birds, historic trails, history of the steel guitar, and talks about scientists, notable figures, and much more. www.konahistorical.org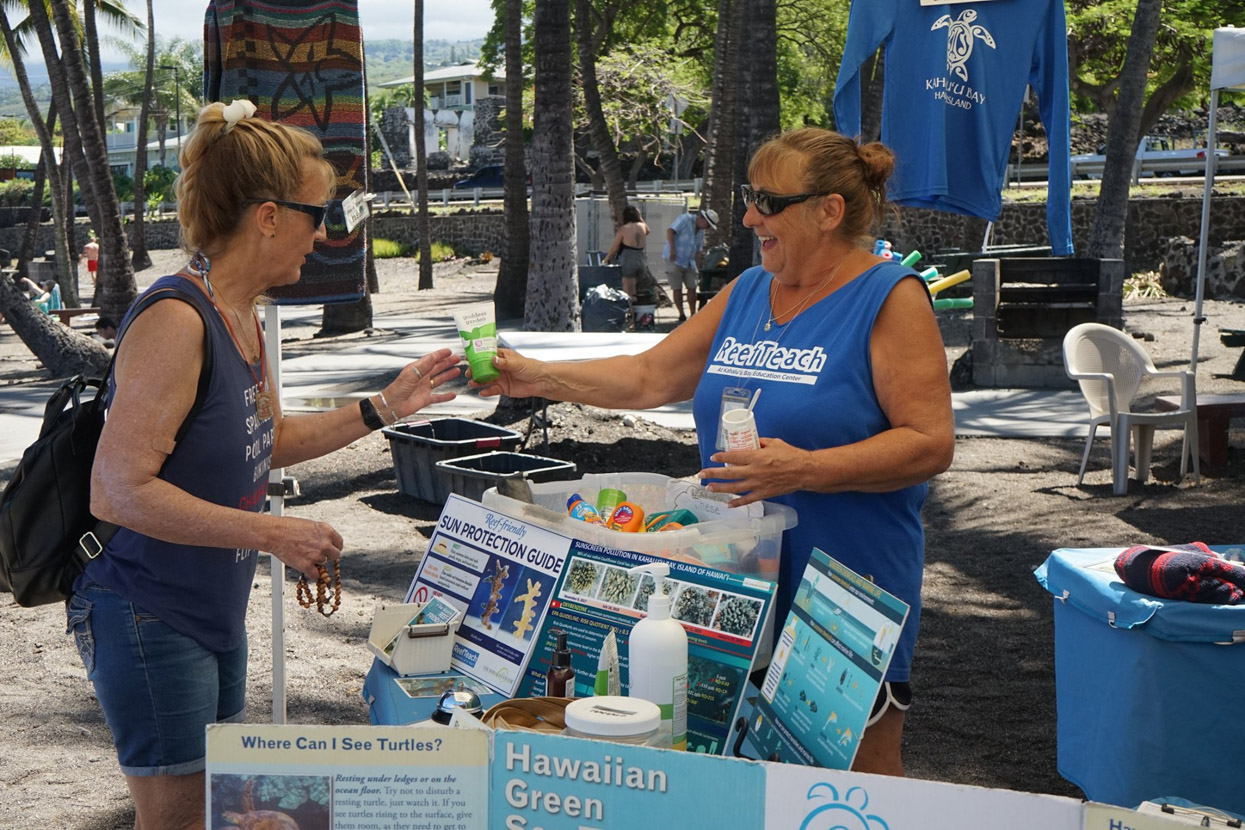 Of course, every visitor to Hawaiʻi Island spends time in the sun and sand, and teaching at the beach is every bit as important as in the classroom. In South Kona, the Kahaluʻu Bay Education Center (KBEC) trains ReefTeach volunteers to teach and talk with some 400,000 beachgoers each year, about how to safely enjoy the fragile coral reefs. Their "Reef Etiquette" program includes simple tips that make a big difference.
Because corals are living animals, they play an essential role in the natural reef ecosystem. Stepping on coral, breaking off pieces, even kicking up sand and sediment can cause severe damage. Likewise, feeding reef fish disrupts their natural algae diet, which helps corals thrive. Equally important, hauling out any rubbish, particularly plastics, that most often ends up in the ocean with dangerous impacts. Everyone needs to be aware and do their part. For the full Reef Etiquette guidelines, click here.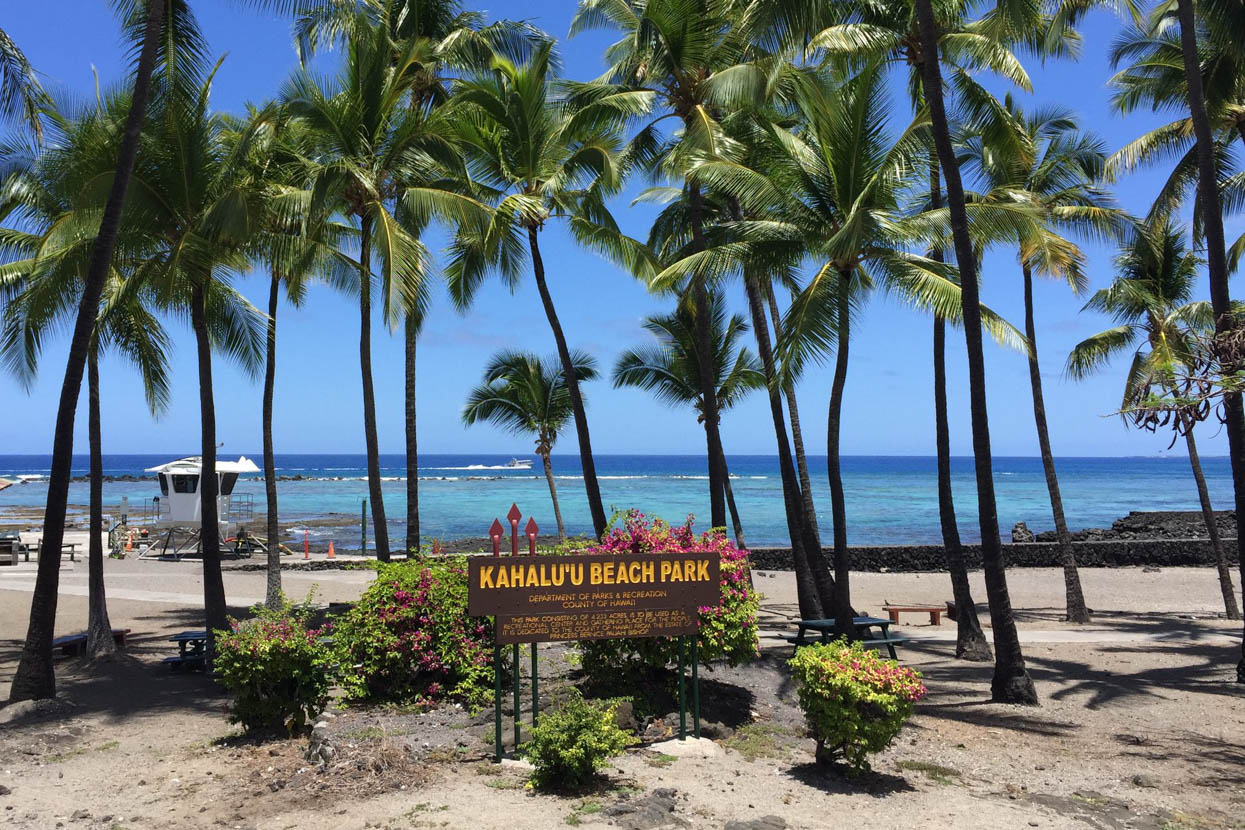 A project of The Kohala Center, KBEC is open whenever Kahaluʻu Beach Park is open, from 9:30 a.m. to 4 p.m., offering snorkel gear rentals and safe snorkeling tips, information on marine life and environment, and reef-safe sunscreens. There are volunteer training sessions and other educational programs and events throughout the year. www.kohalacenter.org
In addition to the area's beautiful and vital natural environment, the Keauhou/Kahaluʻu region is also significant to Hawaiian culture. Many heiau and historic sites have been identified along the coastline, some no longer visible. And—as with the corals—great care is taken to respect and preserve these wahi pana (sacred places), and their stories.
Relatively new to the fight to save the reefs, the Legacy Reef Foundation (LRF) is "farming" baby corals at the Natural Energy Laboratory of Hawaiʻi Authority (NELHA). The LRF is the brainchild of avid diver and lifelong ocean-lover Bill Coney, who observed with dismay the decline in corals and feared that his children and grandchildren might never see the underwater worlds he had experienced. He, with the help of co-founder Susanne Otero, decided to do something about it, to try and develop a "legacy" in coral.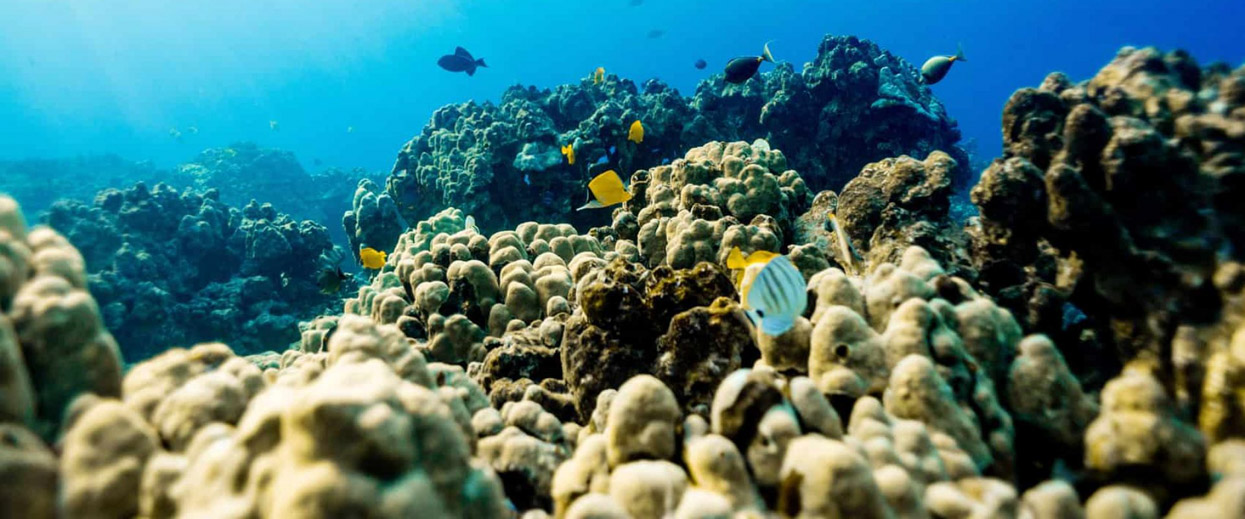 Using a process developed in Florida, LRF brings various coral species into their "nursery" setting, where volunteers encourage new polyps to grow by making small cuts on the coral—which accelerates growth in all directions. New corals can be attached to existing corals or rock surfaces, which can then rebuild and restore the reef on their own.
You can learn more about this exciting new venture by joining an educational tour at the NELHA facility to watch coral feeding, look at polyps through a microscope, and much more. By midyear 2020, LRF plans to open its new Coral Education Center, featuring a large aquarium and "interactive learning tools that will merge ancient Hawaiians wisdom regarding the pivotal role of coral with our present understanding of its place in the food pyramid."
Meanwhile, volunteers are always welcome, monthly "Pau Hana" Fridays allow friendly social networking, and a wealth of information is available on their website. www.legacyreeffoundation.org
In the big picture, we're all just visitors here – on Hawaiʻi Island, and the planet. While we enjoy the many wonders surrounding us, if we can be aware of our kuleana, as humanity and as individuals, we can help preserve our culture and our natural world for generations, and future visitors, yet to come.