Cruises Announced for 2021 Solar Eclipse in Antarctica.  The next big eclipse will be one like no other—as it will only be seen in Antarctica. A total solar eclipse set for December 4, 2021, will turn already-awe-inspiring Antarctica cruises into mind-blowing, truly once-in-a-lifetime experiences. Get in the path of totality aboard one of these special polar eclipse cruise departures.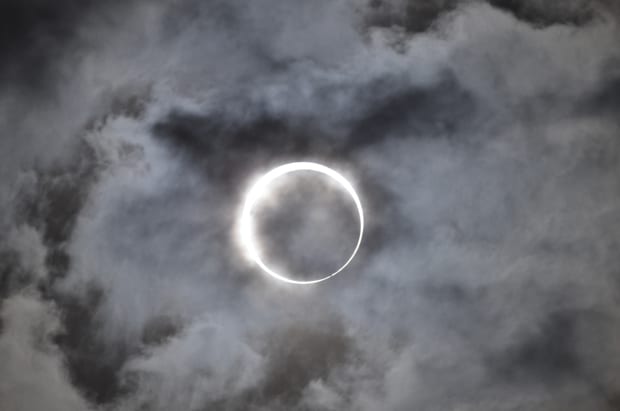 Antarctica is a majestic continent all on her own, playing colors and angles of light off of bright, reflective snow and ice. As the continent comes out of her dark winter slumber, her white coat bleached with fresh snow and reformed icebergs, the days become longer and longer reaching up to 24 hours of sunlight at the polar circle in December. This influx of sunlight creates new ice sculptures, hastens wildlife cycles and offers long days for exploration. Add to this the unique light changes of a full solar eclipse, and guests aboard these cruises will get to watch the shadows, reflections and eerie light drastically change over icebergs and snowy mountains.

Polar Ships Sailing During Antarctica 2021 Eclipse
With this powerful event, 2021 is a year many astronomers, umbraphiles and Antarctica fans are already preparing for. December 4th, 2021, will be an impressive moment only a few will witness. The following ships are already positioning themselves for prime Antarctica eclipse viewing. We will update this post as more eclipse cruise departures are announced.
20-Day Voyages Aboard Plancius, Ortelius & Hondius
The 116-passenger Plancius, the 116-passenger Ortelius and the brand-new 174-passenger Hondius and Janssonius have their itineraries set and are ready for bookings. The fortunate travelers aboard these expedition vessels will not only get to see the incredible sights and wildlife of South Georgia, Falklands and the Antarctic Peninsula, but will also be specifically positioned in the center of the moon shadow during the Antarctica eclipse.
These special 20-day itineraries sailing round-trip from Ushuaia aim to be in the Weddell Sea to witness the phenomena among giant tabular icebergs and sea ice. The Hondius and Janssonius will be sailing first to the Antarctic Peninsula, being in the path of totality of the eclipse on day 9 or 10, then on to South Georgia and Falklands, while the Plancius and Ortelius sail first to Falklands and South Georgia before making way to the Peninsula for eclipse cruising on day 11 or 12.
Nov 23-Dec 12, 2021 – Polar Solar Eclipse, aboard 116-guest Plancius
Nov 24-Dec 13, 2021 –  Polar Solar Eclipse, aboard 116-guest Ortelius
Nov 25-Dec 14, 2021 –  Polar Solar Eclipse, aboard 174-guest Janssonius
Nov 26-Dec 15, 2021 –  Polar Solar Eclipse, aboard 174-guest Hondius
23-Day Voyage Aboard Sea Spirit
The 114-passenger Sea Spirit sets sail for a once-in-a-lifetime journey traveling round-trip from Ushuaia and includes stops in the Falkland Islands, South Georgia and the Antarctic Peninsula. This expedition ship will aim to be positioned east of the peninsula on December 4th for ideal views within the path of totality. Be in Antarctica during this incredible natural phenomena while also experiencing the wildlife-filled and stunning landscapes.
Nov 20-Dec 12, 2021 – Antarctic Wildlife Adventure, aboard 114-guest Sea Spirit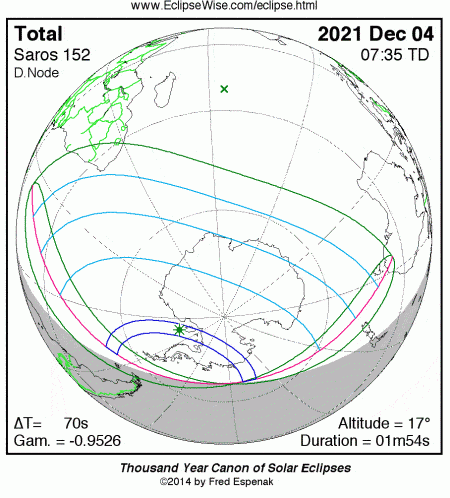 While Antarctica is the ultimate grand stage for eclipse viewing, note that the biggest factor in viewing an eclipse is weather—even more important than latitude! Although crystal-clear skies are often experienced on this enchanted continent (the world's driest), overcast nights are just as common. The ships' crews will utilize their in-depth technology aboard to find the best possible viewing area, hoping to ensure an unobscured sun.
Stay tuned for more 2021 Antarctica solar eclipse cruise departures announced on this post as more ships will surely take part in this unusual cosmic event.